Well, I was bored and there hasn't been much going on around here so I'm posting up what will hopefully be my next purchases.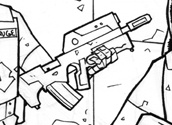 It's basically a FA-MAS with some fancy bits on it to make it look FA-NCY. I guess the top part has been turned into some kind of built in red dot sight (or grenade launcher, but that's a bit unorthodox).
Next up is...
A G36c with some fancy bits put on it. The grenade launcher looks alot like an AK type.
Finally...
Some kind of pistol/shotgun. This gun will be hard ork to make, unless one of you guys know something that looks like it or even had the same layout and size.
So, all these guns are from a comic book I read called Atomic Robo and it is awesome. Robo (main character, a robot) doesn't use these guns, he uses his fists, but his human squadmates use guns. I'm also gonna work on a CQB outfit that matches their uniforms. No, I am not obsessed.