Common Game Styles ATA Uses
This is for any newbies that may come along. Not they'd go on the forum by anyway!
Here is the key to the images: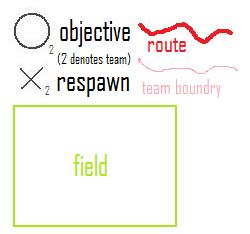 Medic Rule:
A medic box (or whatever) is given to the team. Whoever carries the box can bring a dead teammate back to life by touching them for 30sec. The box can be passed (or thrown) but only when the passer is alive. If the medic is dead then they must drop the box. The medic may shoot while healing someone.
Self Healing:
Saw this at a CQB day. When shot the hit person must kneel for 30sec. They can do this 2 times for a total of 3 lives. No ATA game has used this yet.
Defend the Bunker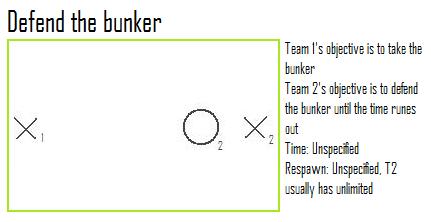 Usually used for newbies to have a game where it doesn't matter that they don't know the field. Also great for scaring their non-airsoft minds forever.\
Variations:
Repawning and time length change as needed.
Bunker VS Bunker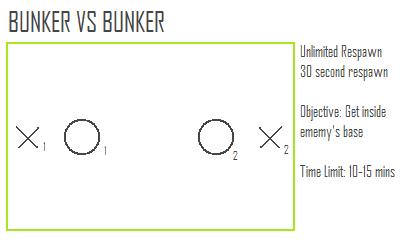 Used when we just want a good ol' shoot out.
Variations:
Time can vary.
Destroy the Radio Towers
No pic 'cos it's a variation of the above two missions.
Instead of taking a base your team is required to pop a few balloons positioned in ammo boxes hopefully by cones.
VC Trail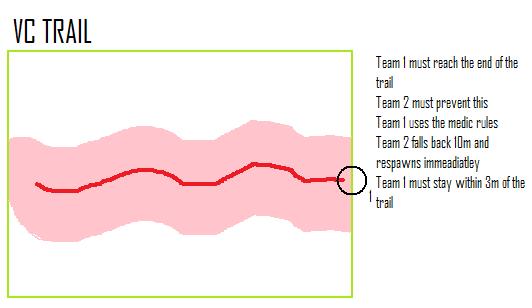 Those are the basic rules but they do change or become more complex on occaision. usually Team 2 will not be allowed to advance.
Variations:
Team 2 must instead respawn at the end of the field but can advance. Team 2 can only respawn at designated spawn points but can advance.
Other Games
Other games we have done include:
Capture the point. A game of Mikie's invention. There is two stationary objectives, both objectives must be captured to win. Unlimited respawns. Respawn points are 20m away from objectives.
Capture the Flags: Used on the Ashhurst field for the first time. There is a flag in each team's base and two flags on the sides in the middle (confusing?). The first team to capture all the flags wins. Unlimited respawns, respawn 10m behind base.
Zombie: Very varied between games. Common elements are, zombies have unlimited self-healing with 10sec respawn. Survivors turn to zombies when they die. Other than that its pretty changable.
Last edited by Tankmaster on Fri Feb 26, 2010 9:26 am; edited 1 time in total